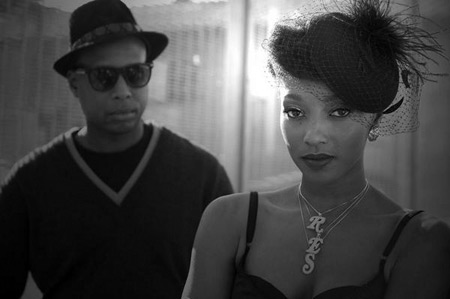 After four years of independently released tracks that spread like wildfire across the web, Idle Warship has released their first official collection of songs entitled Habits of the Heart on Blacksmith/Element 9/Fontana. The 12-track album has Idle Warship storming the music scene with a thrilling hybrid of influences – soul, hip-hop, rock, alternative and electronic. The album also features guest spots from Jean Grae, Jay Knocka, Chester French, Michelle Williams & John Forte. A collaboration between longtime friends and collaborators, hip-hop luminary Talib Kweli and critically acclaimed soulful singer and songwriter Res, Idle Warship was born out of sheer experimentation in the studio. When fans of Talib and Res heard some online MP3s of what they had created during their off-the-cuff sessions, it became clear that that something much bigger was brewing.
They made a huge splash at SXSW in 2009, completed a successful European tour, and released Party Robot – their free mixtape with master DJ Mick Boogie and singer/songwriter Graph Nobel. With an obvious chemistry, a dedication to free creative expression and now a new album, Talib and Res' partnership has become a musical force to be reckoned with., Idle Warship has also made a name for themselves as an early adopter of exciting new social distribution channels – they unveiled "System Addict," a track off Habits of the Heart, on the now wildly-popular social music site Turntable.fm just weeks after its launch. Talib Kweli even received Turntable.fm's very first verified account.
In a move that further solidified Idle Warship as a group that pushes the boundaries of the music industry's ever-evolving digital and social media landscape, they began exclusively streaming the album three weeks before the album's release date on the award-winning, on-demand digital music service Spotify, marking the first time that Spotify U.S. has debuted an album that far in advance of release date.